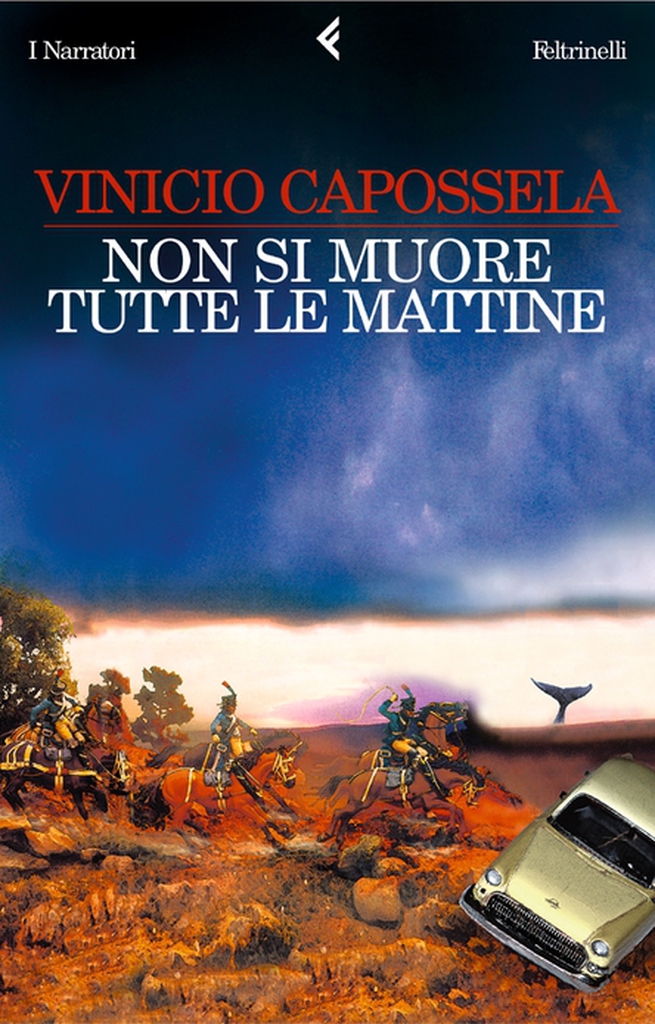 2004
Non si muore tutte le mattine
Non si muore tutte le mattine (You don't die every morning)
Released on: 25th March 2004
Presentation: Martini Terrace in Duomo Square, Milan, 25th March 2004
Net weight: 400 g
Price each kilo: 40 euro
Editor: Feltrinelli
This is Vinicio Capossela's first book, published by Feltrinelli in 2004. Many subjects and many places can be found in it: Sarajevo, Istanbul, motels, male friendship, the end of youth, honor, mistakes, loyalty, Goyeneche, Troilo, Tony Castellano, Jeff Buckley, Glenn Gould, Napoleon, weight lifters, rebetiko, tv repairers. Non si muore tutte le mattine is a work about ambition and grace. 
This was the presentation tour: 
25th March / Milan / Terrazza Martini in P.za Duomo
3rd April / Rome / Piccolo Apollo
8th April / Ivrea (TO) / Teatro Giacosa
14th April / Bari / Feltrinelli
15th April / Matera / Palazzo Lanfranchi
9th May / Turin / Sala Rossa Green Point
3rd June / Florence / Feltrinelli
28th August / Bologna / Premio Frignano
2004. Presenting «Non si muore tutte le mattine» in Piazza Duomo in Milan.
All that's left is voice and other readings
In 2004, after the most traditional presentations, Vinicio Capossela performed a series of readings with music and texts from «Non si muore tutte le mattine». Besides the Reggio Emilia performance, that you can listen to just clicking above, there have been other appointments: 
31st May / Milan / Arci Bellezza
16th October / Reggio Emilia / Teatro Valli
22nd November / Bologna / Arena Del Sole
23rd and 24th November  / Naples / Galleria Toledo
9th December / Rivoli (TO) / Maison Musique
16th, 17th e 18th December / Rome / Teatro Palladium
19th December / Milan / Teatro Smeraldo
Radiocapitolazioni!
Radiocapitolazioni was a radio podcast that aired on Rai Radio Three from 16th November to 3rd December 2004. They featured Alessandro "Asso" Stefana, Marco Tagliola, Vincenzo Vasi e Gak Sato. Listen to them down here: 
1st episode: quantity
Invocation to quantity, voices strucked in tapes. 
2nd episode: Barrio
The neighborhood's empty streets, Carlo Cinasky, tango's ghosts: Troilo and Goyeneche. 
3rd episode: ring road
The supermarketed plain, the Web, the voices from the web, from the shadows of the web. The Grace of Glenn Gould, listened to from motel rooms. 
4th episode: Sun Motel - street oracle
A man locked himself in a motel room and started listening to a single song, a serenade, something nostalgic, a cancion mixteca... And once his solitude is broken, he chokes the woman who invaded it. His clandestinity is told by the recorded voice of the verbal, listing the objects in his Sun Motel room.
5th episode: Maldonado's balera
Party at Maldonado's place, balera... The great comeback to the lost hills, detailed figures that keep on dancing, holding on to the bolero... Only where you loved life, you can see how things became orphans of us. Lirical and musical tale, with echoes of an empty ballroom. 
6th episode: Nutless and I 
The saga of a great friendship, a man thing. Nutless' figure, his theory of helping: a friend who is bigger than you always helps. Gamelain in honor of the Chinese theatre in which Sergio Leone's Nutless goes so as to re-imagine his life, and then «What a wonderful world» played at his wedding, because that's the way it is... Life is wonderful and then... You get married. 
7th episode: Waterloo
The epic of history, and your own epic. Nutless' deeds, getting closer to the greatness reducing it to the minimum of miniature. The capitulation.
8th episode: Cosa ha ucciso Jack Kerouac?
Beat - this is beat! Loving life until you consume it. The "beat" sound, what killed Jack Kerouac and what kills youth, when a swallow becomes a fly... Elegy in the memory of Jeff Buckley.
9th episode: Sarajevo - Bar - Bari - Bar
The dusty memories of a bus station in Prilep, Macedonia, a trip to Bosnia as soon as the war was over, up to Sarajevo. The memories of a red cherry dress, and then the Adriatic sea... 
10th episode: the rebetes' circle
A trip between the doomed people of rebetiko music - a cospiration, rather than a kind of music. Mangas dressed in black, sharp bouzoukis, tzozzos tavern, the drift of metaxa sea. The singers who find a pearl in their drift, and the officiants who take care of them like vestals, in the shipwreck of feelings, and everybody smokes, smokes and turns their heart into ashes, slowly. 
11th episode: Bulgarian lifters
Farfisa organ in the style of a Macedonian cartoon, a socialist ballroom, an Oriental-porn synth background for a detailed description of the gloryless effort of those lifters in a hall that looks more like a club, rather than a sports location. The big challenge between Atanassis and Afasiev, the Bulgarian with a new technique and a big mobile phone. 
12th episode: the Black Dum Dum and Garopaba's rib
Humanity divided into travellers and convicts. Dum Dum the traveller, the acqueduct tower that echoes of his parrots' voices where he decided to lock himself up. The whale's rib, Franca the whale, so fat and embraceable, from which you can try and make a partner. 
13th episode: Chiavicone's animal
Temendous heat in the streets of Chiavicone, hitting on the lying bodies near the clay sea and inflatable pools. And then, in the humid night, the description of the terrible and mysterious animal of Chiavicone. 
14th episode: Nice and Nice. First part
A life lesson from a person who walks ahead of you. At least in this job, there is someone who gives you their boots to let them continue their path with your feet. Among be bop music with Tony Castellano, philosophy and show-business, looking for beauty, for Grace, where Dio God Tutt' Quant' is caught for a glimpse. 
15th episode: Nice and Nice. Second part
The "Aggita" doctrine. Puccini, God's favourite, the last serenade, and Tony Castellano's voice. Madame Butterfly, voted to mobility... 
New edition
On 25th November 2021, Feltrinelli released a new edition of «Non si muore le mattine». It features new content, like a new cover and an index-map that puts places and chapters together.