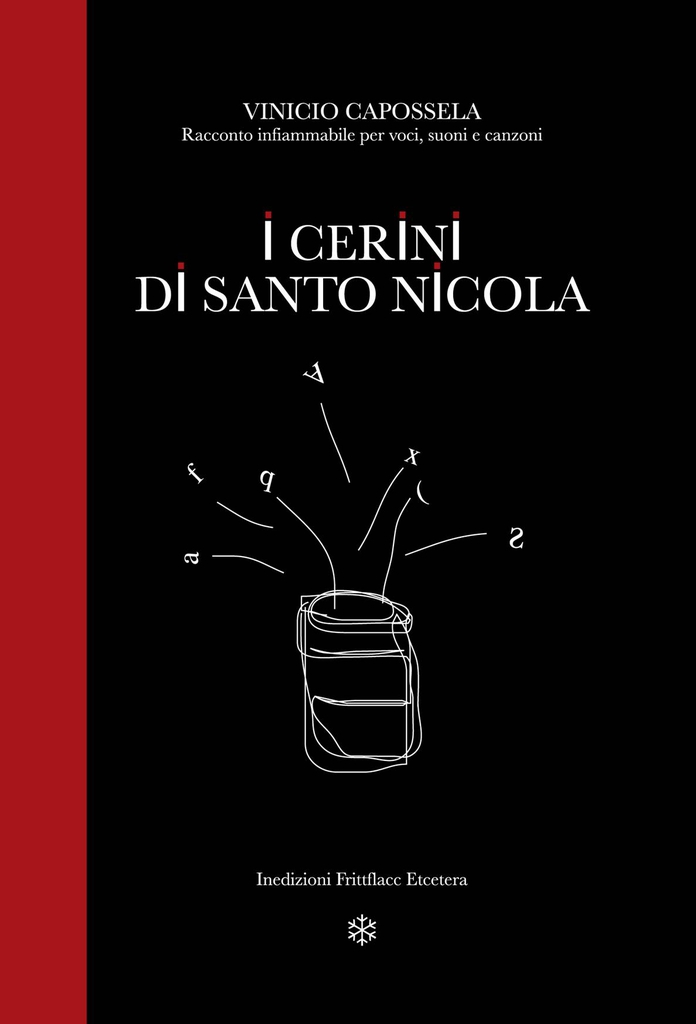 The good speech matches
During Christmas' Eve, near Milan's Central Railway station, unusually empty and covered in snow, some poor people who wander in the area gather around the fire coming from a dumpster. One of them, Secco, who doesn't speak much and who had a glorious past, finds a box of matches that warms the soul and makes you want to tell something.
One of the gathered people starts a tale. It is an animistic, fantastic, ancestral tale: the memory of a Louis Prima concert, the most Christmas singer who never recorded a Christmas song, a cemetery of washing machines and household appliances, where you can find la Cupa's tree, whose light attracts every night animals; a weredog, the so called pumminale; a courtship between old, out of tune pianos and the arrival at Midnight; when the matches are over, of Santo Nicola, the Italian and authentic ancestor of the most global Santa Claus. 
His are the good speech matches, that make fantasy vibrate and give eloquence. This is the only gift that Santo Nicola brings with him, an emigrant, alone saint who blesses the gathere people and with a big flame illuminates them. The speech, this particular and important richness. 
Vinicio Capossela
24th December 2002. I cerini di Santo Nicola airs on Rai Radio Two
This radio-tale was written by Vinicio Capossela and Jacopo Leone so as to be aired during Christmas' Eve and it follows the previous radio-tale, aired in 2001, which was taken off Dickens' A Christmas Carol.
There are some traditional Christmas songs in an unedit Italian version, Capossela's songs and others, like I wanna be like you, off The Jungle Book. 
It was recorded in Rai Radio Due's Milan studios in December 2002. Production: Giorgio Bozzo for Goin'Nuts and Fabrizia Boiardi for Rai. Text editing: Francesca Leoncini. Musicians: Giancarlo Bianchetti (banjo, guitar, ukulele), Glauco Zuppiroli (doublebass), Vinicio Capossela (armonium, piano, theremin, saw).
22th December 2017. I cerini di Santo Nicola performed at OGR in Turin
On Friday 22nd December 2017, at Turin's OGR, Vinicio Capossela performed «I cerini di Santo Nicola», a flammable tale for voices, sounds and songs inspired by Christmas time. It's actually the one and only show based on a text that was conceived as radio tale, which aired during Christmas Eve 2002, and that is now proposed in a new version, enriched by the extraordinary featurings: Paolo Rossi, the magician Christopher Wonder, the giant Marco Cervetti and the musicians Vincenzo Vasi, Glauco Zuppiroli and Alessandro "Asso" Stefana. 
Fifteen years have passed since when, back in 2002, Jacopo Leone, Francesca Leoncini and I were playing and inventing a "protector of the victims of their own mistakes", someone who protects those who run away from home, of those who lost their way back, of those who migrated and stayed in the orbit of the Central railway station without being able to leave. We found it in the figure of Santo Nicola, a migrant and shabby saint with the most common name between Southern Italy's migrants who trusted him. A kin of Nicolaus, the first gift taker whose job has been stolen by Santa Claus. 
Well, he was glad that he was stolen his job, because he does not trust adults and kids' wishes: they are infinite and can change quickly, so he says to be careful what you wish for, because then, perhaps, it might come true. 
He decided to save a gift only, some wood matches, a poor thing that can do miracles: it gives the ability to talk, to tell a story and so it makes you understand compassion and comprehension. The ability to see our disgrace in other people's disgrace and so to feel some kind of brotherhood. 
Rain became snow and it doesn't hurt, but wets... The enchantment of fire and tales during wintertime is necessary because, as the Santo says, who is alone understands it at Christmas.
The tales follows one another around a fireplace that is not domestic but a dumpster, like the ones that were lit at the times of Platform 21 when people were protesting against the cancellation of night trains. 
...Eventually the matches are over, Santo Nicola is a bit older, he doesn't have a fluent white beard, but a raw beard because he is homeless. He doesn't feel well... He changed his half cropped 127, pulled by stray dogs, but he is always accompanied by "malebestie" that make us remember that, as when we were kids, you can learn something from fright, but not from fear, because it paralyses people. And that the gift of dialogue, of being able to talk and listen to someone, is a precious gift which doesn't need extra wage or showcases to be known and given. 
November 2017
Vinicio Capossela