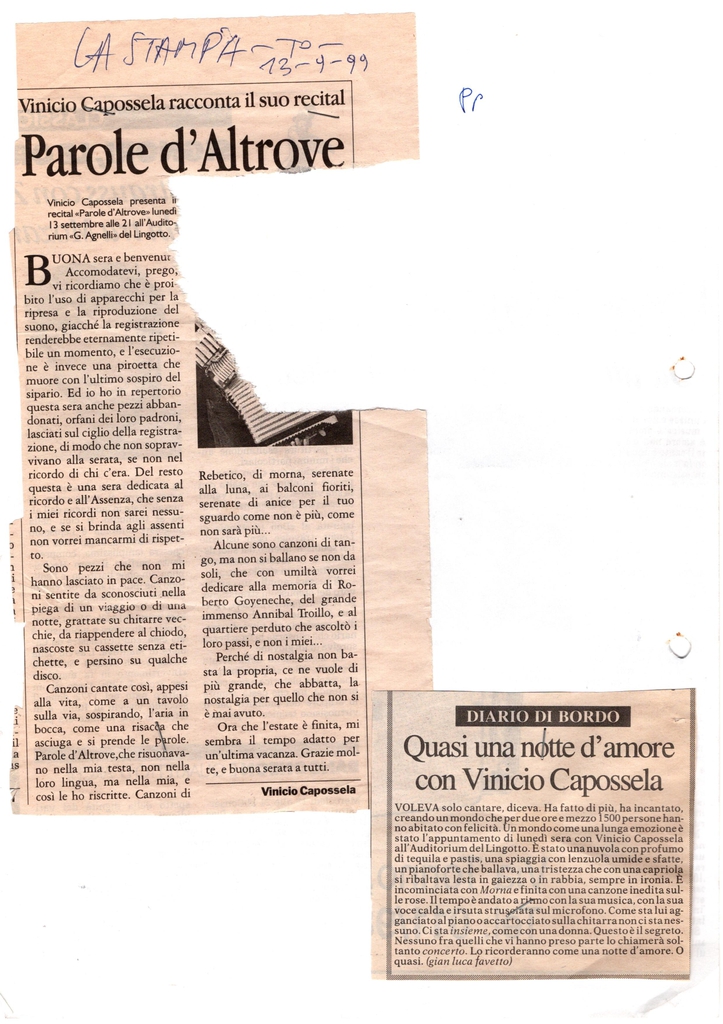 1999
Parole d'altrove, Jimmy Scott and Modern Times
Mud was my life, mud was my love
There's tango, the dance of sordid dance halls, and there's a noble tango. A sad thought that you can dance to, the sensual step framed all over the world by amazing dancers and wonderful companies, a tango of cinema and imagination.
There's the big orchestras tango, Gardel's and Piazzola's modern, sharp tango. And then, there are old songs.
Those are very poetic songs, written by actual life poets. People who never wanted to walk outside of their barrio. They write about their neighborhood, about the flowers hanging on the window of their lost lover…
Songs that have been sung in smoky rooms of Barrio Santelmo (Buenos Aires), where they serve wine and whiskey only. Nothing else.
Songs that you can't dance to, you just have to listen to them, forcing you to light a cigarette, to suffocate a blade with another blade.
Songs that have been sung by men standing on the edge of life, like iguanas, waiting and breathing, as they have blended breath and tar.
Songs made of memories, made of life, for people living in the past, trying to tear off themselves their own life, but without succeeding, because life is like skin, and you can't de-flesh yourself.
And what would I be without my memories and my pain? Nothing. These men, who aren't artists nor singers, are my own pain and regret; they are the neighborhood I didn't have, the barrio I couldn't live in. They are more than lost purity, they're the regret of the lost and distilled purity.
And the thin and sharp rain that fell on my heart on the farewell nights…
Vinicio Capossela
Turin, 13th September 1999
Good evening and welcome, please take a seat. We remind you that it is forbidden to use recording devices, since recording can make a moment eternally replayble, whereas a performance is a pirouet that dies with the last breath of the curtain. In my repertoire, tonight, there are abandoned songs, orphans of their masters, left on the edge of the recording, so that they cannot survive the evening, except for the memory of those who are here. 
I want to dedicate this night to memory and to Absence, after all. Without my memories I would be nobody, and if we toast to the absents ones, I wouldn't want to disrespect myself. 
These are songs that did not leave in peace. Songs that I have heard from unknown people on a trip or a night, played on old guitars, hidden in nameless tapes, and even on records. 
Songs that were sung like this, on the edge of life, sighing, like an undertow drying and taking words with itself. Words from another place that echoed in my head but not in their language - in mine. And so I wrote them again. Rebetiko, morna, serenades to the moon, to flowered balconies...
Some are tango songs, but can't be danced if not on your own. I would like to dedicate them to the memory of Roberto Goyeneche, to the immense Anibal Troilo, to the lost neighborhood that heard their steps, and not mine. Because your own nostalgia is not enough, you need a bigger one, that kills you... Nostalgia for what you never had. 
Villa Arconati (Bollate - MI), 2000. Vinicio Capossela in concerto con Jimmy Scott
Dopo l'incontro avvenuto nel 1999, nel luglio 2000 Vinicio Capossela e Jimmy Scott si esibiscono in un concerto insieme a Villa Arconati in Bollate (MI). 
SCALETTA
Corvo torvo
La notte se n'è andata
Il mio amico ingrato
Non è l'amore che va via
Solo mia
Ma l'America
Le case
Stanco e perduto
Nella pioggia
Bardamù
Marajà
Con una rosa
To read more
Click here to read some interesting parts of interviews released in 1999. Files can be both read and downloaded in Word.